What a weekend I have had this past weekend.
We had our planned garage sale the lasted for THREE days and on top of that Saturday was my big day of attending Zumba Instructor Training. I have an amazing mother-in-law who comes into town and help Eric and I deal with the chaos. It was incredible and am very fortunate and blessed to have done it.
Woke up Saturday bright and early and Eric and Gran (mother-in-law name the girls use) took care of the girls and the garage sale and I focused on packing for 9 hours of Zumba. I brought a large duffel with extra clothes ( I sweat a lot), towel, sweat shirt, dance sneakers. I also brought a cooler packed full of healthy and yummy snacks and 2 large bottles of Smart Water.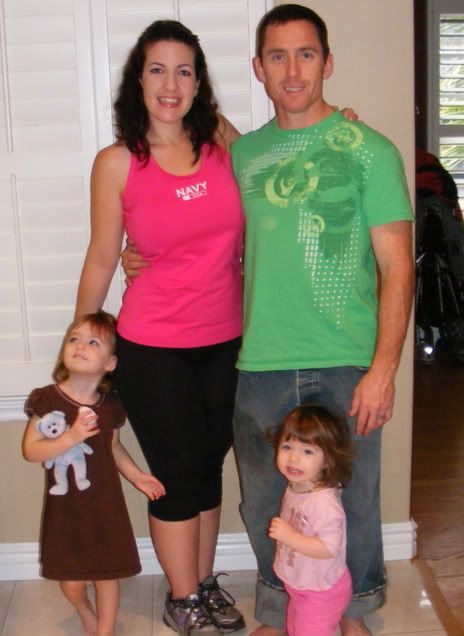 My family and I right before I left for the Workshop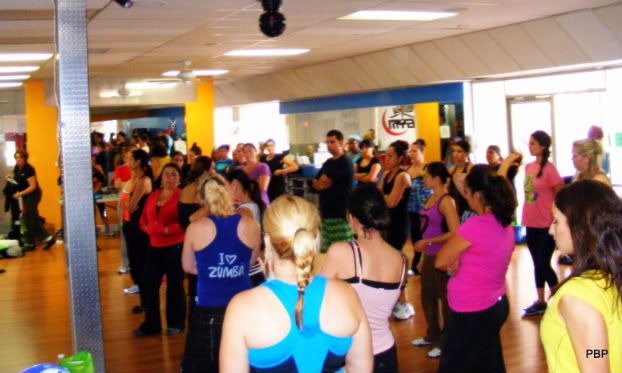 The training was in Otay Mesa with a wonderful ZES (Zumba Education Specialist) named Eliza Stone. Eliza has pretty much been in fitness and nutrition for 18 years and been with Zumba from the start. She has personally worked with Beto (Creator of Zumba) and been in multiple videos. So, I got there around 8:15 am after a 20 minute drive south and Otay Mesa is literally spitting distance from Mexico. Went inside the gym and there was a line of mostly women being checked in. Walked into the big gym room and people lined around the perimeter of the room. I think I recall the number 55 being mentioned of how many participants were there.
There was a table filled with Zumba Gear . At 9 am class promptly started with introduction and the Master Class with Eliza. It was instense and fun! I loved how she made people rotate so those in the back had a chance to get in front and so on. The master class went on for 1 1/2 which of course feels like 5 minutes. I was very surprised to see Lori ( My Zumba instructor at the Y) pop in and dance. It means a lot because I know she came to support me. She even bought me a Zumba shirt. With out her reference I probably wouldn't have had this opportunity. After, the master class lecture started. Sitting on the wood floor was a bit of a bother but the lecture was fun. Eliza kept it upbeat and fun.
Lunch was 45 minutes and some ladies nearby decided we need food food. I have originally packed tuna salad with cracker kit and there was going to be no way that was going to tide me over. So, Subway was the go to choice.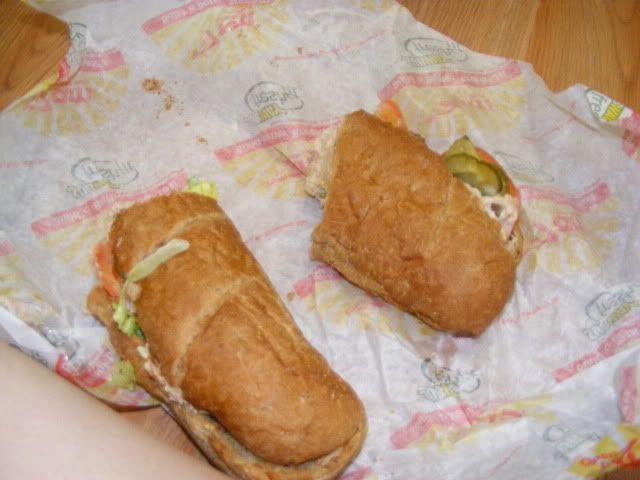 It was nice bonding with some of the other attendees. It's also another reason why I love Zumba so much. People from all walks of life can Zumba with no background in dance or fitness. Zumba is a party, having fun, feeling the music and letting your body move to it. Nobody cares what the other person looks like and so on.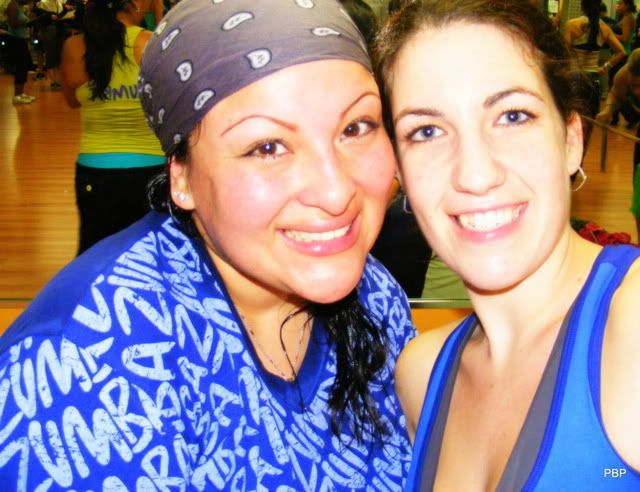 Sandy and I. Amazing woman from Orange County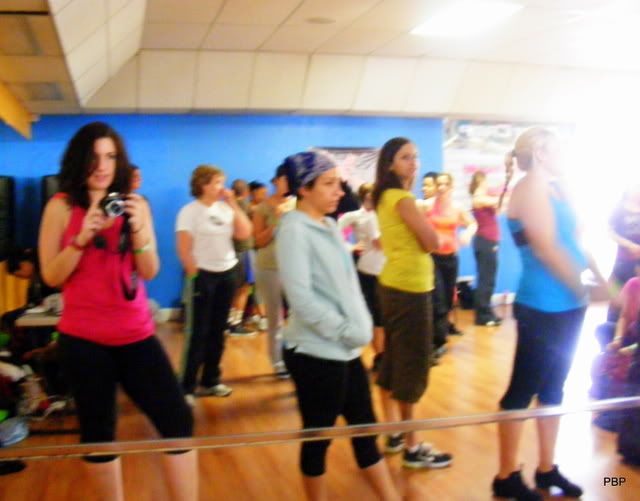 Action shot of doing lecture/routines
Me after Master Class on 2nd shirt of the day
So, after lunch class kept going and we did routines, more lecture, routines and repeat. We even choreographed a dance in groups and did things with partners. It was fun, exhilarating and very very tiring. There were times I was sitting on the hard wood floor eyeballing my duffel thinking how comfortable it would be underneath my head. At the end we danced to 4 songs and I was totally on my last leg. I have went through 3 shirts throughout the whole day and lots and lots of water.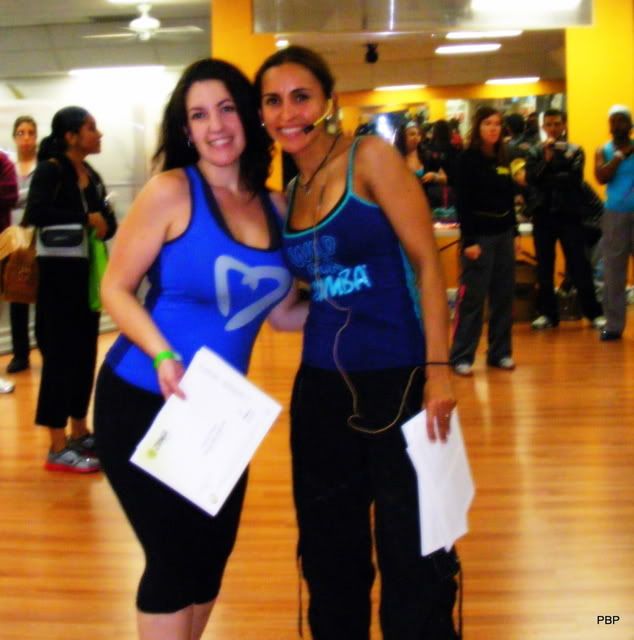 Eliza and I after receiving certificate
I did become a ZIN ( Zumba Instructor Network) member so I have access to all the goodies and so fourth and I do plan on having a job with Zumba in Hawaii. Be it at a gym facility or community events (Civilian or military). I really want to focus on the military of course and spouses. I am not hoping for a large sum of money or anything because doing this was fo me but would love to put my skills to work.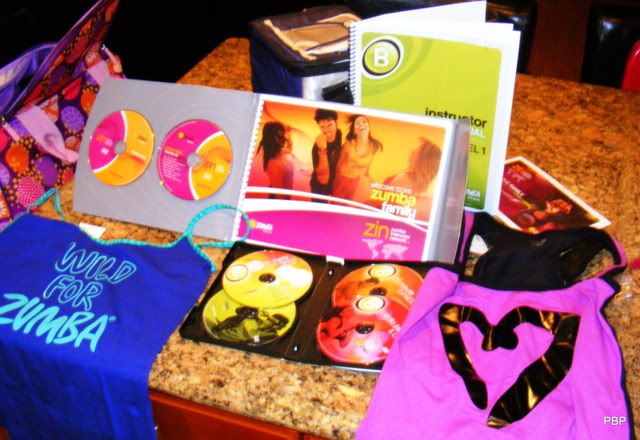 My goodies
Sunday, woke up great still on my Zumba high. We were on day two of garage sale and Eric and Gran did a great job on Saturday. During a slow time, i decided to clean things out that have been sitting outside. We have two small wooden beach chairs and I brought them over to the hose to start spraying them. As I was praying down the 2nd one and flipping it over i felt the sting on my left middle finger. I flipped the chair over so I can see where my fingers were and saw the black widow spider drop to the ground and seen the web with three white egg sacks. I immediately freaked and knew in my head I need to stay calm. I called Eric on cell since he took the girls for a walk and said come home. Eric came home and i ran my finger under cold water and washed my hands. Eric did some resaerch and I was already feeling symptoms, nausea, headache. He decided it was best to go to ER at Navy Medical Center. Waited forever and my body started cramping.
Nausea was out of this world and my head was throbbing. I got in with in after about an hour wait and the Nurse pract. basically said, " Oh you have a black widow bite? Here's some benadryl." WTF Eric and I were both wondering why she didn't ask about symptoms. I felt like i didn't get good "customer service". The discharge nurse came in and gave me papers. he told me what to do it bite becomes an abscess and then asked if i had any questions. Uh yeah I do. I asked, " what about the symptoms I am experiencing now, how long to I deal with this? Are they going to get worse? Better?" He looked at me and asked if the doc asked me about symptoms? Eric and I shook our head no and he took my papers back and said he'll be back. So we waited for a while longer just for the Nurse Practiner to just say that i have to suffer and if the suffering is real bad... she can order medicine. needless to say, Eric had to call the hospital and get a script for pain killers and anti nausea medicine. That night was so horrible. I do not wish it on anyone. My whole body ached, my joints hurt like my elbows, knees and fingers. Despite all the meds I was on, I could not sleep from pain. Once I did go to sleep though I got better. So, all in all first 8-12 hours SUCK!!
So, like I said. What a weekend. I am a Zumba instructor!!! woohoo! Other than the spider bite I wouldn't trade it for the world.